Donuts Long-Term Pop-Up Store at Príncipe Pío in Madrid
After Donuts incredible on-going success with its first store in Diagonal Shopping Center in Barcelona , Go—PopUp has found the perfect pop-up store for its second location of this famous brand from Bimbo.
Donuts has been making its iconic and delicious Donuts since 1962 in Spain, when its founder visited the United States and discovered new innovative methods to create doughnuts. Yet, he was not authorized to bring the ingredients he saw in this trip. Instead, he made a unique formula that applied to the standards set in Spain, using different flours and a variety of other ingredients that eventually led to the formation of the iconic Donuts. Every year 250 million Donuts are consumed in the country alone, this means 8 Donuts every second!
After more than 50 years delivering these delicious sweets, it was undoubtedly the time to open the brand's own stores where everyone could come and have a better look at the different flavours and toppings to choose from.
Objectives
Find a target group matching pop-up location in Madrid

Start with a short-term store with the option to convert to long-term

Reach old and new customers throughout live communication

Launch and sell new products from Donuts
Donuts wanted to find a second long-term spot in another top location within Spain, after its first store located in Barcelona, which opened at the end of last year. The goal for opening another brick and mortar location was to increase customer engagement with the personalization of its delicious products and create reliability as a new go-to Donuts destination in Madrid.
"We are very satisfied with the welcome our first store has had. That's why we are looking to open in Madrid so that more Donuts fans can live a unique and irresistible experience."
Patricia Ibarra, Senior Brand Manager at Donuts
Actions
Delivering the perfect pop-up stand location in Príncipe Pío in Madrid

Negotiation of properties features, budgets and contracts

Work with Influencers for maximum media attention
Go—PopUp found the ideal pop-up location in Madrid at Príncipe Pío, one of the top shopping destinations in Spain's capital. Located close to Gran Via, the Royal Palace and the Madrid Rio, the shopping centre is giving Donuts' 'Oh My Donuts' store, a great amount of traffic, as it receives over 11.5 Million visitors each year. Let alone it also has its own metro station, making one of the most accessible and unique multi-brand destinations in the city.
The stores grand opening featured Mario Vaquerizo, a popular artist from Madrid, whose culinary skills were previously shown with his appearance in Masterchef Celebrity 3. At the day of the event, he personalized three Donuts with a variety of tasteful toppings.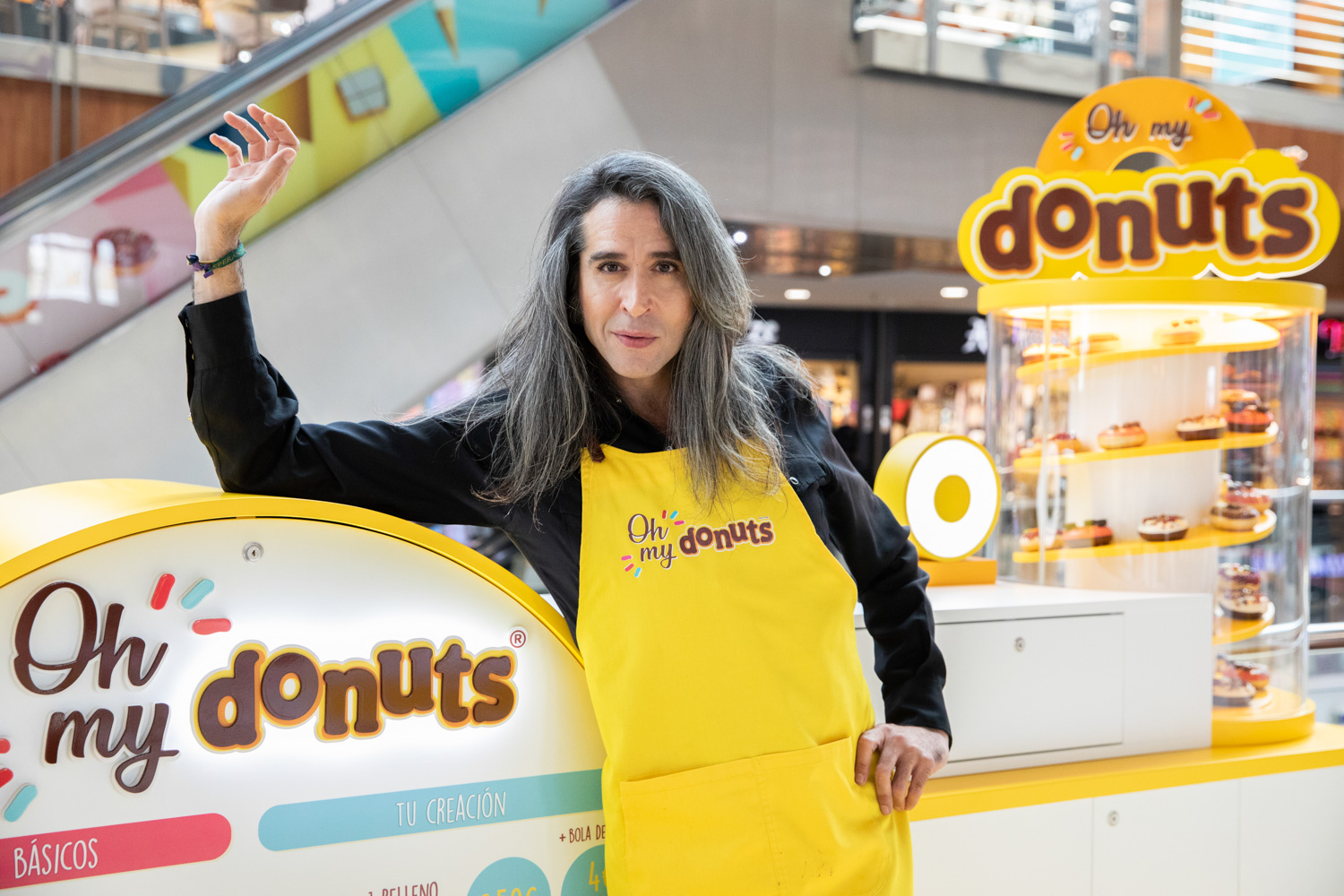 Results
Engaging customer with product customization

Reaching new national and international clients

Continuity with brick and mortar stores for Donuts

Created huge buzz and media attention with quality coverage
The location set up by Go—PopUp stands in the middle of one of the shopping center's main halls in between big brands stores, making it truly unmissable. It offers its clients the opportunity to personalize the Donuts of choice with a variety of toppings, covertures, and fillings. For the very first time as well, they will be able to try the Donuts ice cream from the classic Bombón and Glacé flavours. The Donuts store in Madrid delivers overall a very sweet and round experience, everyone with a sweet tooth won't be able to miss!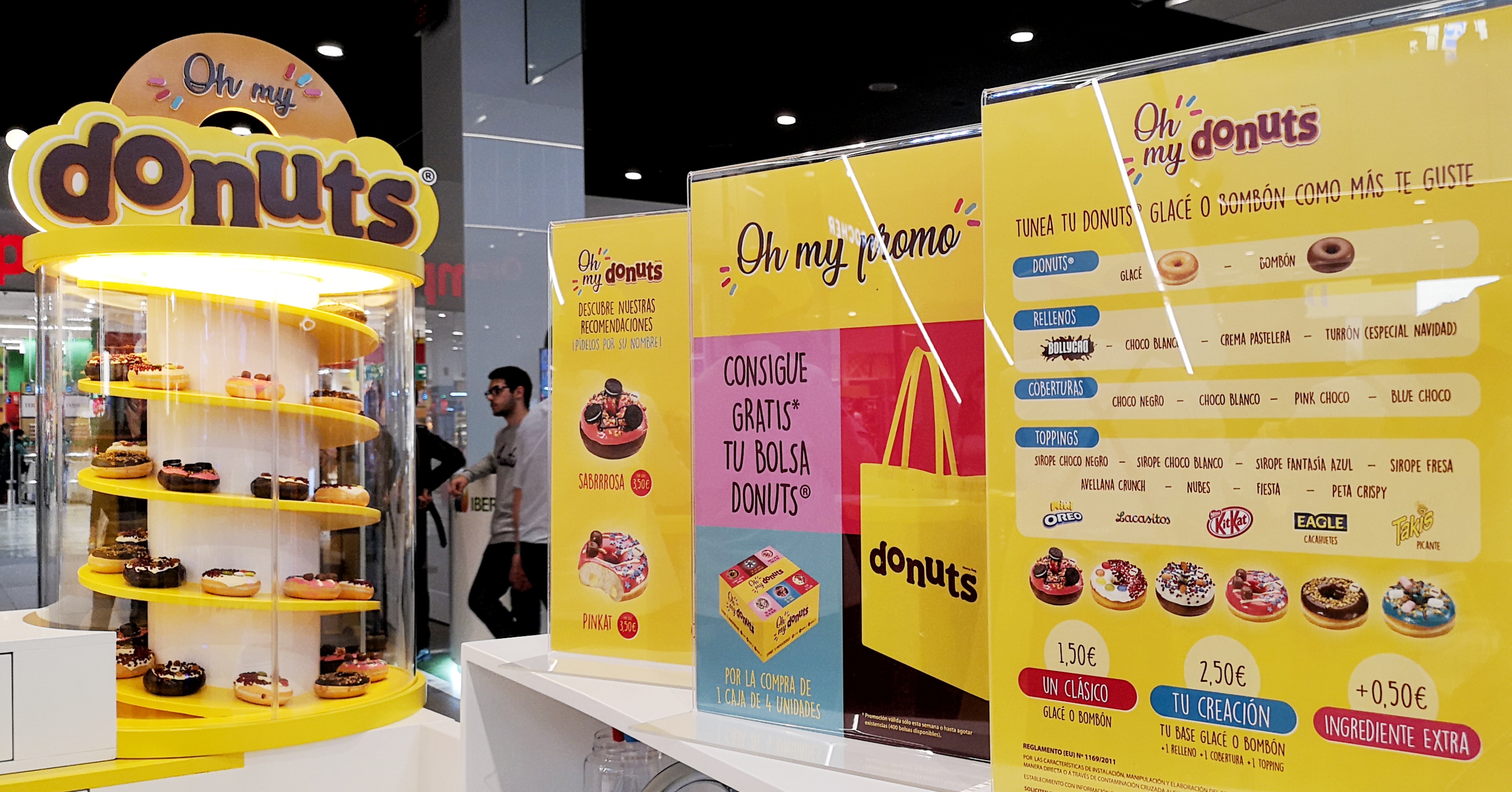 In search of the perfect store format and location? We are here to help you! Contact one of our experts to make you pop-up store ideas come to life.
More information
Paseo de la Florida, 2, 28008 Madrid
Monday-Saturday from 10:00 to 22:00
Sunday from 11:00 to 22:00
Media Coverage
You can read more about this tasty experience at Elle, Time Out, Madrid Secreto, Cosmopolitan, inforetail, and Marketing News.