HOW TO LAUNCH A POP-UP IN A MALL
The main benefit of a shopping centre is the possibility to attract and retain large numbers of people simultaneously: how to launch a pop-up in a mall.
Shopping malls are a beautiful ecosystem for consumers as they enter the mall to look for different offers. Therefore, shopping centres are specialising in diversifying experiences by offering leisure, food, retail and more. It leads the consumer through a circuit of experiences, encouraging the general public to spend more time in the centre, recurrently.  The KPIs measured to understand the success of a mall are annual visits by season and by access points. The more traffic an area has, the more m2 are rented in the location, and of course, the higher the cost will be.
If you are considering the possibility of launching your brand in a shopping centre, here are the 5 steps to open a pop-up in a mall:
1. Define your budget
You must develop a budget plan to have control over expenses and revenues. When renting a commercial space, you must also include in the expenses: availability of technology at the point of sale or the cost of qualified personnel.
2. Define your objective
If you are investing your time and resources in setting up a pop-up store, you should be clear about your goals:
Are you looking to attract new customers?

Test your products?

Increase sales volume?

Raise public awareness with your pop-up store?

Is it part of a marketing campaign?
Or you have an online store but want to try the offline market while you get to know your customer better?
To cover all these objectives at the same time can be a challenge. Prioritise your objectives according to your brand's needs, and go for them!
The purpose of this format is to dazzle in an everyday space, with ingenuity and creativity, for a given time, with a specific product. Setting a clear objective a priori can help you measure its impact and assess the benefits of the pop-up revolution. 
3. Choose the format
There are several ways to introduce your brand in a mall:
Premises: spaces within a shopping centre, available for short-term rental.
Container: customized space from one or more modular containers. And organize the pop-up store as you imagine it.
Stand/kiosk: located in common areas of the mall with more foot traffic. 
Each format has its advantages, but you should keep in mind that it also involves different costs. At Go–PopUp, we suggest choosing the format that best suits your needs and the goals of your project.
3. Choose the right shopping centre for my brand
Once you know about the type of format and budget available, you must choose the shopping centre where your target audience is located.
You should take into account the following points: 
Budget: your overall budget must include also the rent costs. Rent is usually higher if the shopping centre is closer to the city centre.
Audience: It is essential to make a previous analysis to verify where your brand's customers are moving, to impact it with the right format, in the right place. It won't do any good to set up in a premium shopping mall if our target is low-cost, for example.
Product vs location: Depending on the permanent stores in the mall in question, it will be valued whether or not your brand and product stands out from the competition and can represent an alternative in that specific location.
Shopping Centre Regulations: One of the most important factors when deciding your pop-up location is the philosophy and regulations of the shopping centre. A project proposal is usually submitted to the mall for prior approval.
At Go–PopUp we have a group of experts that know how to launch a pop-up in a  mall. They will advise you at all times to enjoy the whole process and the result is a complete success.
//Some examples
A clear example of the impact of opening a pop-up store in a shopping mall is the case of Visionario.
The premium quality eyewear brand trusted in Go—PopUp to launch a sicx months pop-up in the Maremagnum Shopping Centre in Barcerlona, Spain. It was the brand's first experience in a shopping mall, and the result was so positive that it is very likely that they will repeat it in the future. We can't be happier!

Also, the stand was visited by influencers such as the model Alejandro Lillo or the photographer Josep Albert.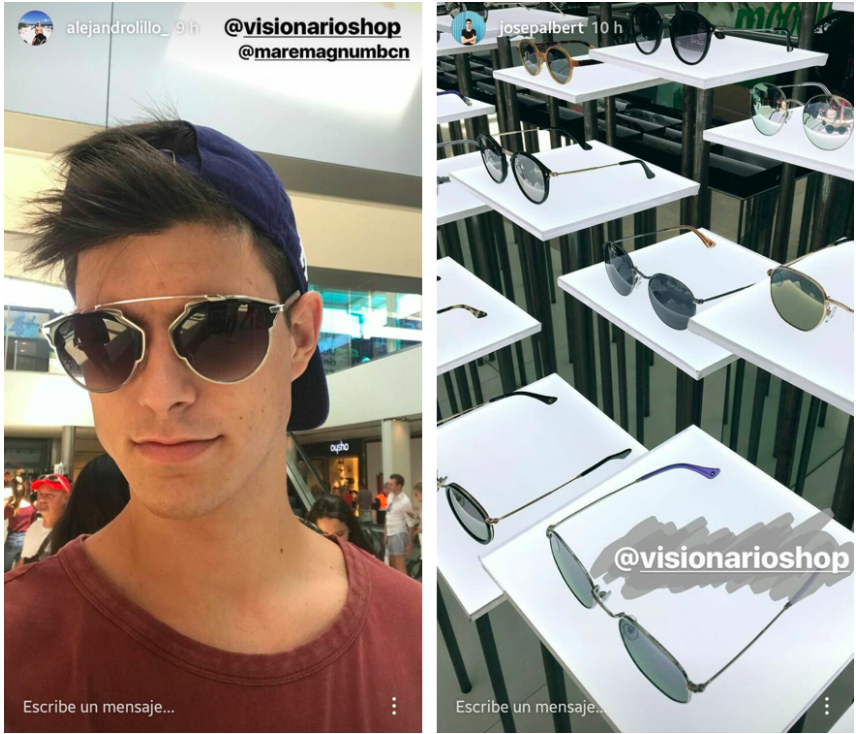 ---
//More examples of mobile pop-ups
Mobile installations can be used as pop-up modules to create the structure you desire and need. The constructions are plug & play, which means it does not require any civil work and can be located both in exterior and interior areas.
It is 100% transportable, therefore offers some unique characteristics:
Designing a fully customisable project,

Mobile sales channel with high visual impact,

Dynamization of commercial areas,

Totally sustainable.
Nocilla, Diesel, H&M and Decathlon are some of the brands that trusted us to launch a mobile pop-up store.
Here are some examples of the application of this model in shopping malls by our partner: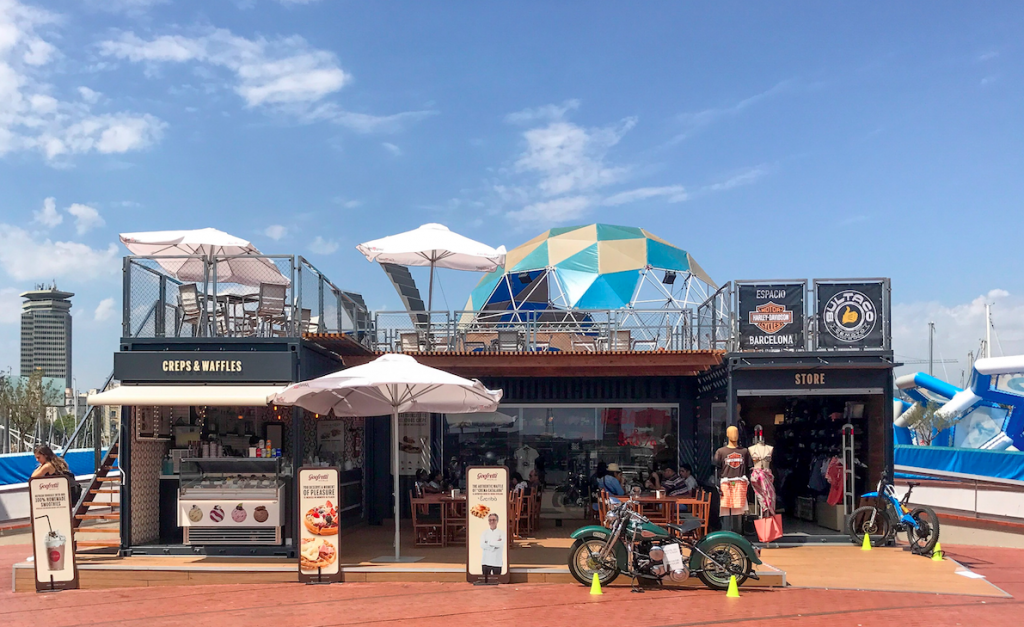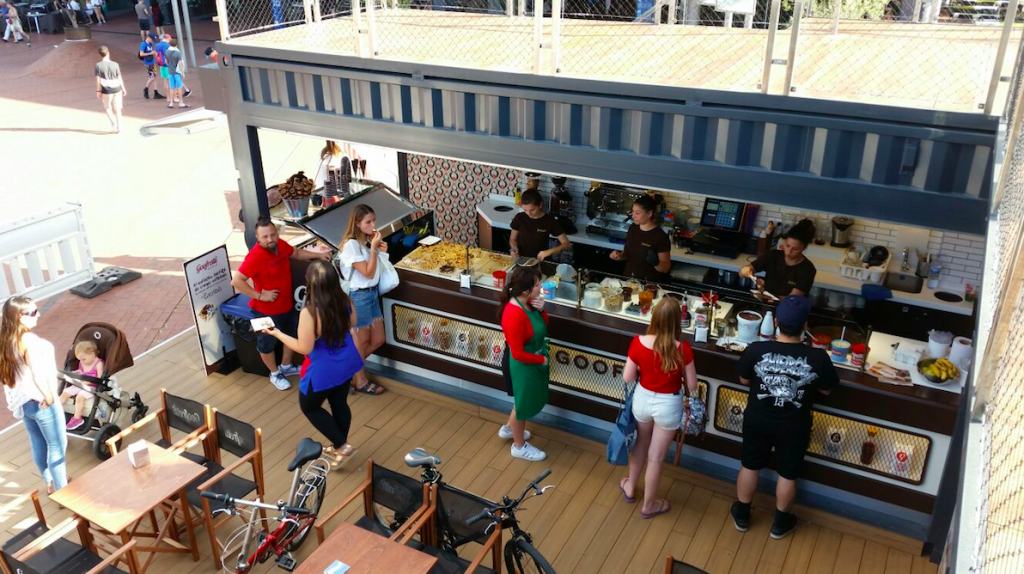 If you are wondering how to launch a pop-up in a mall, we recommend you to start testing your idea using our pop-up Canvas Service. It is a tool that guides you through the points you need to take into account when working on the concept of your pop-up.  
You can fill in the Canvas or we can guide you. Whatever you choose, you can contact us at:
DACH (Germany, Austria, and Switzerland): mac.bugaj@gopopup.com
Spain and Portugal: nuria.roig@gopopup.com 
The UK, France, and The Netherlands: mirjam.stibbe@gopopup.com 
Rest of the world: hello@gopopup.com