How a Mobile Pop-Up can help you to reach micro-segments of your audience in their natural environment. 
Nowadays consumers have very busy and nomads lives, free time is wisely divided among important things: family, friends, wellbeing or interests such as education and entertainment. Brands need to find new ways to seize customers' attention; 'shock and awe' is a new strategy to capture consumers' time offering one of a kind and unexpected experiences. 
Let's take the example from British designer Lee Broom that during the Fuori Salone at Il Salone del Mobile of Milan in 2016, created a pop-up truck that hosted a dramatic mobile installation, functioning as mobile show-room, the van arrived via land from the designer HQ in Shoreditch, East London.  The hashtag to follow it up was #milanvan, creating a lot of noise around it while offering people the opportunity to keep up the van's whereabouts. Who needs physical show-rooms if you can move around and meet your customers where they are? The result, such as in this case, will seize people's attention. It is possible to play with the interiors creating a dramatic contrast with the outside, Lee Broom used all his imagination to deliver this experience and created a truck that resembled an antique Italian Palazzo; moving around the city, the van and engaging with a specific crowd in their own neighbourhoods.
Micro-marketing or hyper-personalization is a trend that forces companies and brands to address to their public in different ways: knowing their routine, the areas where they mostly spend their time, analysing how they manage their free time, bringing what they offer where they are and where they can better consume it. This is what Be Time Bus a yoga Studio based In New York City, must have thought when they decided to set up a yoga bus to be able to pop-up in neighbourhoods around the Big Apple and help customers to integrate to their daily life a class of meditation.  
Having a mobile pop-up store can also help in the process of getting to know better your customers when you are about to launch a physical store. The case of Warby Parker, an exclusively online company specialized in glasses is an interesting example: they grew so fast that online customers were asking to visit their office, but they did not have offices, just a living room in the home of the founder! The high demand gave the co-founders enough confidence to dream about opening physical stores, but where? What did customers want? What kind of experience were they seeking? What are the needs in the moment of buying a pair of reading glasses? These questions could not be solved with only the data they collected online, they needed to go out, meet the customers physically. With this idea in mind, Warby Parker Class Trip was launched: a pop-up bus built into a store. Accordingly, to Mr. Blumenthal one of the co-founders, this strategy helped them to visit different neighbourhoods along 15 cities, giving them the possibility to collect the necessary data- So that in April 2013 they opened their first store in Soho, NYC.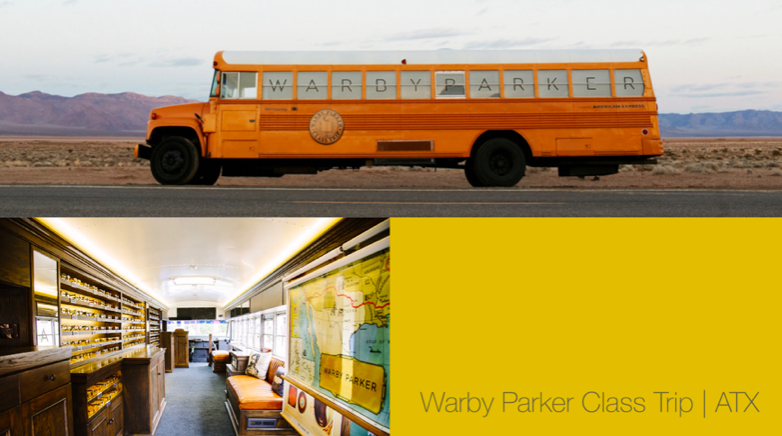 When thinking on how to connect to micro-sectors of your audience, it is essential to get to know them very well. In the past, this has been usually carried out by dividing the customers by demographic characteristics, however, nowadays the characteristics of consumers have become blurry, more and more people want to try new things, independently from their age, religion, gender and so on. The best way to connect to this post-demographic society is by getting to know them very well, interacting with them in their natural environment, where they carry out their routine and spend most of their time. 
If your brand is thinking about a strategy that aims to seize customers' attention in their natural habitat, where they spend more time or where you think they could better use the service or product you offer, let us know! We will help you to find the best opportunity to surprise your customers!