ONLINE POP-UP STORE: OUR LATEST PRODUCT
While consumers remain confined to their homes, they are willing to engage with brands more than ever using alternative digital solutions. The latest way to connect to customers, using digital channels, is a necessity in current times. However, pretty soon, it will become an integrated part of the retail omnichannel approach to consumers.  Online Pop-Up Store: our latest product, it is the answers to connect to your customers and community through a simple click.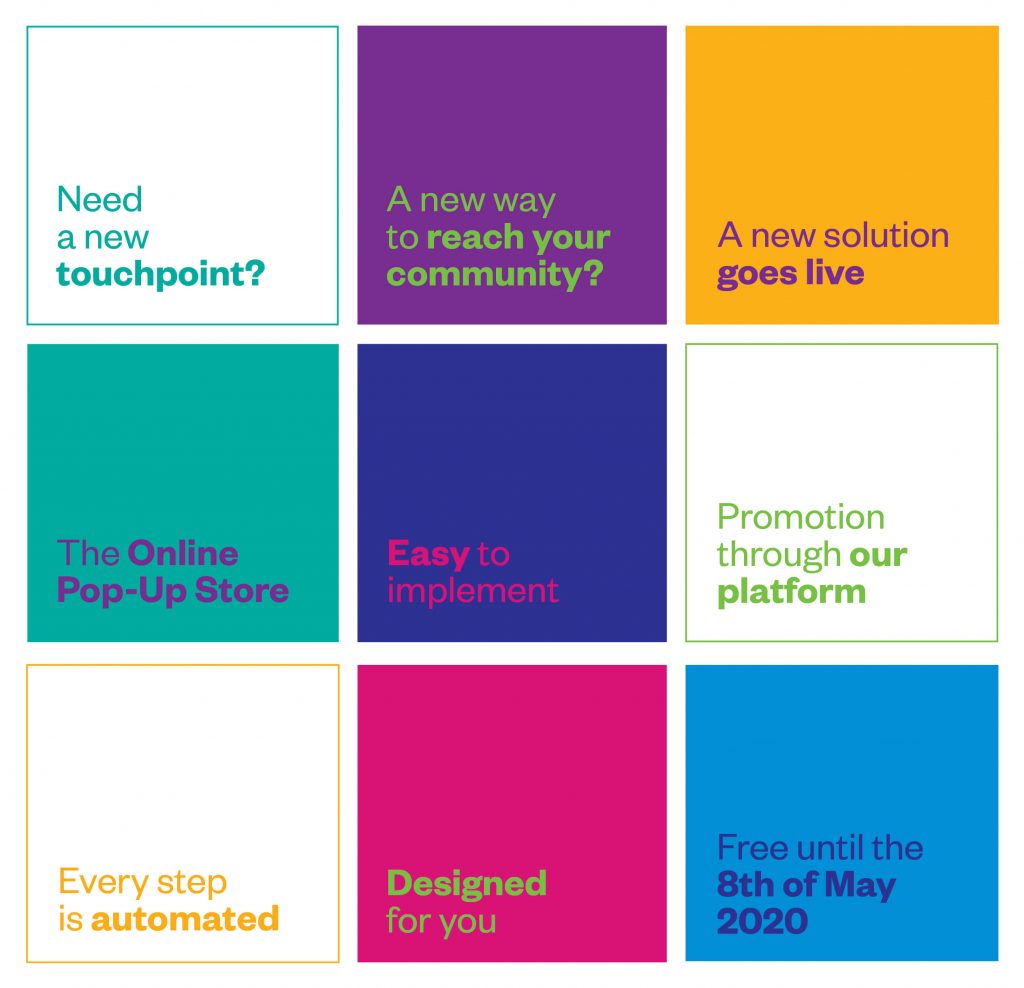 //What is an Online Pop-Up Store?
Via our platform, through a few steps, any brand can create an online pop-up. It is a space where a brand representative can connect, via a live stream video, to their customers. The attendees will be able to interact via a chat booth. The session can be about any topic of your liking and can be a point of entrance to a final purchase on your e-commerce site.
You can manage the invitation to your online pop-up event as you please. You can use your social media channels to reach out to your community or your webpage. We will also reserve a page on our website to register for the event. The pop-up can be exclusive and invite specific customers or the general public. However you decide to manage it, we will support you in every step.
//The benefits
Among others, we think that these three benefits of the Online Pop-Up Store are the most significative:
It is an easy tool to implement

: the steps to create an Online Pop-Up Store are easy to follow. By signing in and filling out the information about your event, our solution creates everything you need to launch the online pop-up, including the streaming session and notifications for all parties.

We guarantee the promotion:

every pop-up event will be listed in the Online Pop-Up Shopping Center. So, any customers visiting the website of Go—PopUp, as well as our existing customers, can see your event and register for it.

Everything is automated:

to make the process even

more accessible

, our platform creates the content for your social media. So, the brand can share it on their favourite channels, with only a few clicks.
Online Pop-Up Store is already available, free of charge, from today until the 8th of May, 2020.
If you would like to launch a pop-up online, but you need some inspiration, we have some solutions from you!
You can read our latest article on How to create a successful Online Pop-Up Store, or you could take a look at our Canvas Consulting Service, a step-by-step guide on how to create the concept for a pop-up: physical or digital, you choose!
You can also get in contact with our Sales Team; they are always available to support you launching an Online Pop-Up Store, our latest product: 
DACH (Germany, Austria, and Switzerland): mac.bugaj@gopopup.com
Spain and Portugal: nuria.roig@gopopup.com 
The UK, France, and The Netherlands: mirjam.stibbe@gopopup.com 
Rest of the world: hello@gopopup.com