Container Custom & Go—PopUp
Go—PopUp continues to expand the Pop-up store culture with a new breakthrough and versatile format: Containers. After a collaboration agreement between Container Custom and Go—PopUp, you can now organise a custom container pop-up store through our website. We introduce you to Container Custom Stores! The new format of ephemeral stores: totally personalised and with infinite possibilities of assembly and transportation. If this sounds interesting to you, you have to read the details ahead!
What is the Custom Container Store?
They are mobile, versatile and innovative stores that add value to brands. From this day, in the web of Go—PopUp, brands have the option to select a container as an option to create a pop-up store. In a completely personalised way and with the licenses and permissions managed by Container Custom, the pop-up containers become a new solution for ephemeral stores.
One of the many ways to make a pop-up store is to use the containers as modules to create a unique structure. These can be located in any area (interior or exterior) whenever possible through the licenses that Container Custom negotiate with the relevant body of each city.
Having in mind that they are 100% personalised and they adjust to the needs of each brand, the possibilities are endless! Brands like Diesel, Gaastra, Sunglass Hut, Ipanema, Nocilla y Dock 93 have already used this format to create a Pop-up store with Container Custom Store as a partner.
The versatility is a key factor for the success of a Container Custom Store. Brands like Diesel -in Zaragoza and Barcelona–  Nocilla, Gaastra, Ipanema and Sunglass Hut y have already partnered with Container Custom Store to create a joint action.
Create a Pop-Up with Container Custom from Go–PopUp
In Go—PopUp we offer 4 types of Pop-Up containers: 
Retailum: focused on the retail sector to offer a solution for brands that have already started the process of expansion. The container becomes a sales channel with high impact and excellent locations.  This model works really great as a sales point, especially when the Pop-up store is available only for a finite period of time.
Gastro: a unique solution for the culinary world: restaurants, food bar, coffee shops… An entirely versatile concept.
Branding: we create a 100% personalised container so that it breathes the essence and identity of the brand to reinforce the brand positioning. It is used for specific events, as a point of sale, information point, brand activations, among other purposes.
Home: habitable projects as an economic, fast and transportable solution: houses, premises, changing rooms, offices …
Full management
The Container Custom model is entirely customised, the project is designed to adapt to all decisive factors for the brand: available space, product characteristics, brand image, and budget, mainly.
Starting from a basic feasibility study, the project design is then developed and the detailed planning of all stages is started: manufacturing, installation, and start-up. During the development and design stage of the project, we work together with the brand to minimise costs and adjust the variables that create a functional, different and high impact project. The development of the project and the construction system allows to offer tight deadlines, delivery times are between 4 and 6 weeks.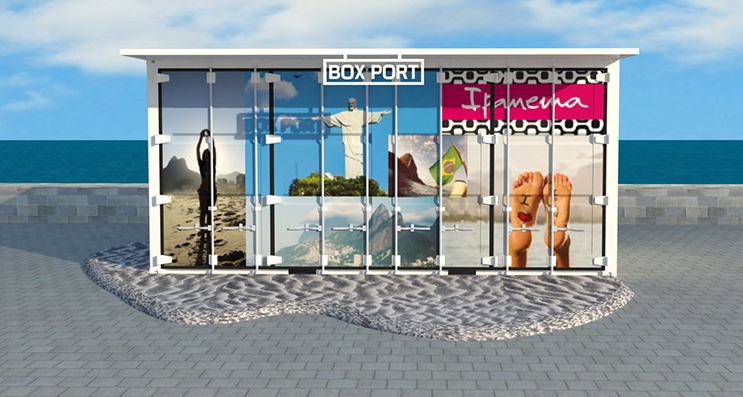 Wherever you want to be
Currently, we have Container Custom Stores installed in some of the shopping malls of the main cities of Spain: Maremagnum in Barcelona, Puerto Venecia in Zaragoza, Xanadu in Madrid and Bonaire in Valencia.
Due to the success of these pop-up stores, Go—PopUp and Containers Custom have managed to close special agreements with the main shopping malls in Spain to be able to locate these container stores in its facilities. Thanks to this agreements, we now have more than 250 malls available in Spain.
Discover how to create your pop-up store with Container Custom today on our website! And if you still have doubts about how to create a pop-up store, take a look at our How-To Guide: 12 Steps To Launch Your Pop-Up Store.