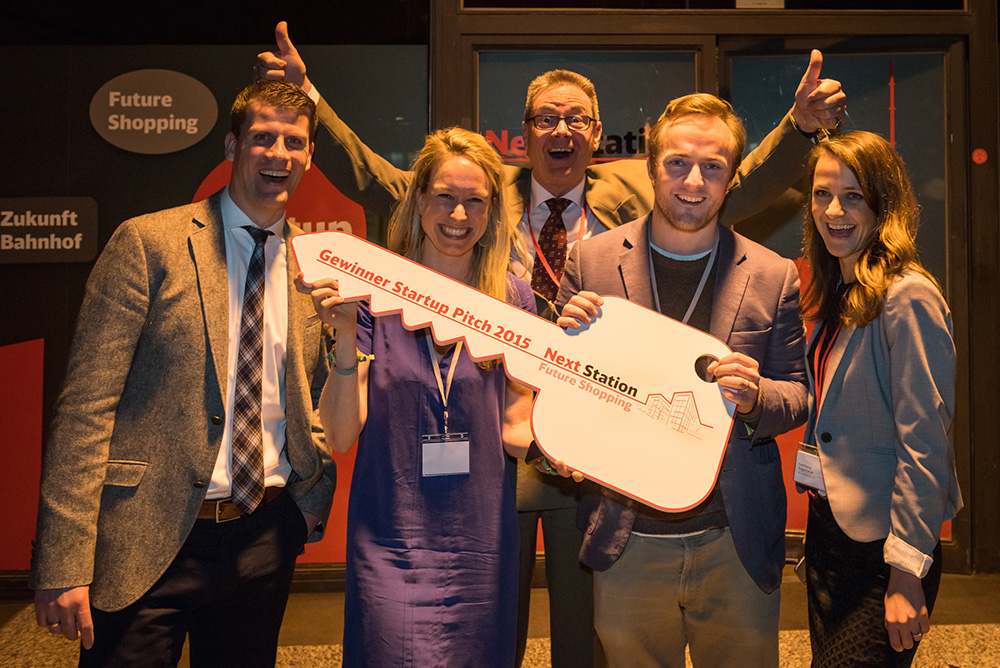 Uncategorized
Food Pop Ups taking over Berlin Hauptbahnhof
Deutsche Bahn's search for future shopping concepts is over – at least for this year.
On April 16th another round of the prestigious startup competition 'Next Station' came to a successful and surprising finale: two startups to rule them all! TEA Tales and Home eat Home will share the throne in summer 2015 and be given the exclusive opportunity to open their very own pop up store at Berlin's central station. And foodie heaven just got that little bit brighter…
Deutsche Bahn Pitch Event
Deutsche Bahn embraces Pop Ups as the future of shopping
With a retail area of more than 1 million sqm and 17 million customer interactions daily, it's probably safe to say that Deutsche Bahn AG is one of the big players in the shopping universe. New retail concepts and ever changing customer needs continue to shape the market, bringing along questions about the future shopping experience. Highly aware of these changes, Deutsche Bahn already jumped the wagon (pun intended!) in 2014, shaking up the startup world, by launching the Next Station pitch event. The prize: a cooperation with DB and, even more exciting for us, a pop up store with prime customer exposure for the winner's products or services. Of course, we have to agree, that pop up stores are the most dynamic and versatile stage, to test out retail innovations in the offline world.
Two good to choose
60 startups entered this year's 'Next Station – future shopping' contest in March 2015, but only 9 finalists were chosen to pitch their idea live in front of a selected jury of entrepreneurs and DB representatives on April 16th. Each team was given merely 5 minutes to present their concept, followed by a Q&A session. The jury must have been hungry for change on this joyous spring day, choosing not only one, but two food startups as their lucky 2015 winners.
Who else is way too nosy to know, what must have been going on behind the jury room doors that afternoon?
Nina Schröder from Tea Tales pitching her idea to the jury
Let them drink tea…and eat a home-cooked meal!
We are more than delighted to introduce you to the two winners, who sealed the deal:
TEA Tales
Heart-warming organic tea2go is brought to you by Berlin-based startup TEA Tales, who also promised to refresh busy train travellers with their iced tea creations this summer. Nina Schröder, the queen of TEA Tales told Go—PopUp what sets them apart from other tea brands: "In our tea bar, there is a tale behind each of our 22 loose leaf teas. The "Ride the Night" takes you to parties in Buenos Aires with Argentinean Mate and Guarana from Brasil, the "Forever Young" is about Mary's Beauty Greentea from Hong Kong. You can enjoy the tea experience hot, as Ice Tea, right here or just to-go. Also you can get your favourite tea to take home with you or as a gift in the original TEA Tales tin."
Sounds delicious? If you want to try a real alternative to the good old American coffee chain, take a break from frappuccinos altogether, or simply rejuvenate your taste-buds, keep your eyes open for the TEA Tales pop up store at Berlin Hauptbahnhof this June.
TEA Tales Pop Up shop @ Bikini Berlin
Home eat Home
And just when we thought that Berlin life could not get any better, we talked to Sebastian Esser from Home eat Home, who convinced us that it can: "Home eat Home is a new food service that offers pre-packed meal bags with all necessary ingredients ready for pick-up in decentralized pick-up stations." In other words, for all of us amateur cooks and food enthusiasts, who are too lazy to look up a recipe, draw up a shopping list, browse the grocery shop for Rhabarber, or any other German veggie that nobody can pronounce, queue in a horrendous check-out line, only to arrive at home, realizing that we forgot to pick up those chives – there is hope on the horizon! Go—PopUp can't wait to drop by the Home eat Home pop up store in July and get our Jamie Oliver on. Who else is in?
Home eat Home does your groceries for you
Channels
TEA Tales
www.teatales.de
facebook.com/iloveteatales
Home eat Home
facebook.com/homeeathomeberlin
www.home-eat-home.de
Where to find us
gopopup.com
facebook.com/gopopup
@gopopupcom
#gopopup