Multipurpose pop-up: how to cater for wider audiences
In a post-demographic society, your action should be a multipurpose pop-up. Why is that? Things are changing faster than we think, with societies becoming more and more fluid. Demand and offer for retail experience is being reshaped and we're assisting to the creation of new daring, exciting trends. Have you already though about how to improve your brand and cater for wider audiences through physical retail?
Welcome to post-demographic consumerism
Peoples' consumption is no longer defined by a specific pattern, age, gender, location or family status. This happens particularly in big cities, especially megalopolis. Here, diverse people meet, tradition fades and merges, and consumers have a wide array of interests. As a result, the possible targeted consumer could be found in all demographic and in all markets. It is a recent trend, a consequence of pandemics and modern times. We're sure you noticed that!
Where does this new consumer come from?
The post-demographic consumer has grown quickly thanks to the mega brands present worldwide. Post-demographic identities result from the freedom of traveling relatively easily, even to areas of the globe that were once considered remote. Let's not forget the internet as a primary means of communication and the possibility to work remotely. Last but not least, is the fluidity of the latest generations, with GenZ leading the flow. This generation can experiment with new identities, rejecting any type of definition.
Multipurpose pop-up actions
If consumers cannot be longer put in boxes that define their characteristics, experiential retail must be multipurpose pop-up actions. Shopping simply becomes the consequence of the visit to a pop-up store. The strategy aims to simultaneously cater to a broader audience by offering different activities. An immersive experience captivates attention by playing on more than one essential company characteristic. In other words, those who manage to provide a new experience out of the core business – yet connected to it – are more likely to obtain positive results.
Retailment as a strategy: Dior hitting South Korea
A multipurpose pop-up is where retail and entertainment merge. The last inspiration behind this successful strategy is Dior's exclusive pop-up space in Seongsu-dong, South Korea.
The ephemeral store is located in a garden. It comprises many different areas, including a Book Tote Room lounge dedicated to custom bags, a café, and an exhibition displaying various pieces by Korean artist Kwangho Lee. Within the Café, it is possible to enjoy a digital presentation created by the company D'strict, reproducing Dior's childhood villa in Granville, France.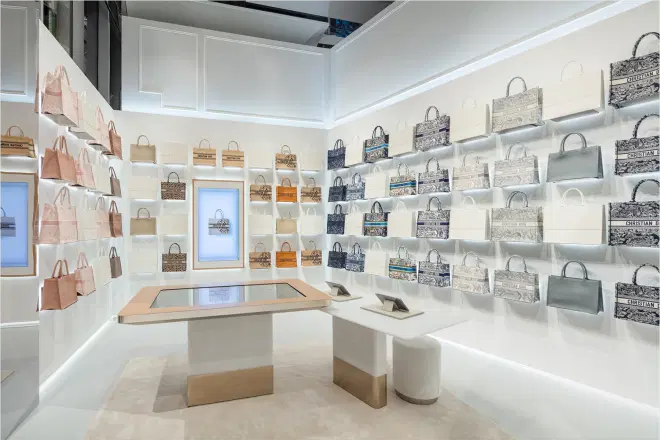 A multipurpose pop-up is an all-engaging and curated experience made to cater for a wider audience and an example of how fashion is fusing retail and entertainment. If you're looking for new ideas or spaces where to launch you next pop-up action, contact us. We'll be happy to have a chat!