News about upgraded functionalities
We have been quiet, and it's because we have been working on something, just for you: news about some upgraded functionalities!
Go—PopUp has upgraded some functionalities! Our aim has always been to support you in achieving your goals by finding the best location for your pop-up event.
We upgraded our functionality to make the navigation experience on our platform more user friendly.
//Revamped map and filters
We revamped the map to allow you to find easier and faster the venues with the characteristics you desired:
A faster and precise map: to better access thousands of venues,
More accurate filters: to better select your preferred locations,
Direct navigation directly through the map: easy refresh of available options.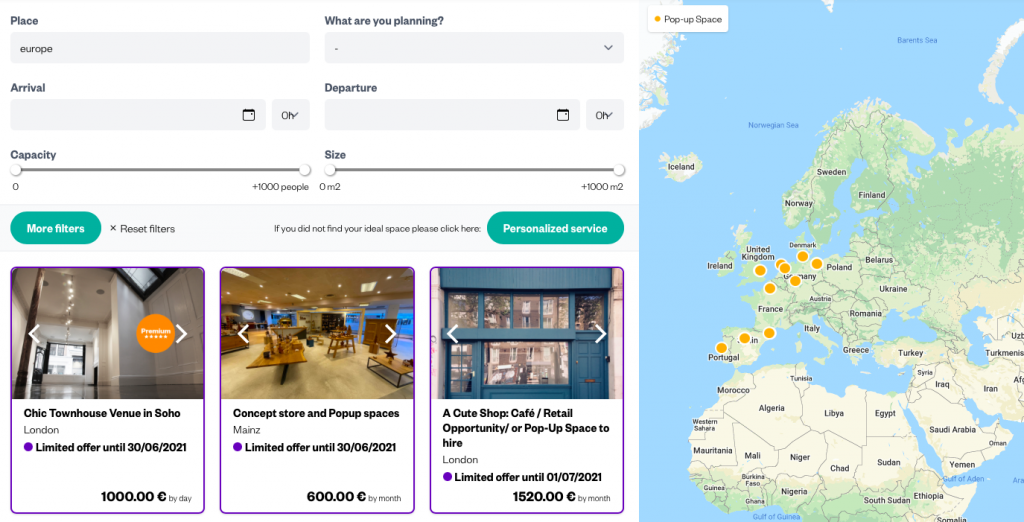 → Visit our map for a smoother search.
//New venue category, multi-spaces
Multi-spaces category: to find buildings with many available spaces under the same roof.
Plan floor navigation: to have a better idea of the available space in the venues.
→ Visit this multi-space that we have on our platform.
//Smoother information flow
Receive PDF proposals of venues of your interest: to easily share them with the rest of your organisation,
Clear proposals: receive complete proposals from landlords or the scouting team.
//Our aim
With these improvements, we strive to support you in being the most creative: to think out of the box about how to use venues and types of spaces.
These are the news about some upgraded functionalities! Visit our newly revamped features and find the best location for your next pop-up!