Winter Is Not Coming — Experiential Marketing Pop-Up Event for Canary Islands in London
The eternal spring of the Canarian Islands was unveiled in a unique experiential pop-up experience in London, supporting the Canary Islands marketing campaign to promote and grow tourism.


Objective
Marketing Promotion Event for

Canary Islands Tourism Campaign

Duration of 3 days in a high frequented A-Location in London

Create awareness and reach new audiences for the Canary Islands as a travel destination
The goal was to transport the campaigns core message Winter is not coming and transport the feeling of the seven islands where the sun always shines. From volcanic landscapes to ancient forests, endless beaches or peaks so high they almost touch the stars, where travellers find everything they need for your dream holiday.
Action
Delivering the perfect location with the Westfield Stratford Commercial Center in London
Producing a marketing pop-up promotion stand in a high frequented location within the shopping centre
Creating a shareable and worthwhile pop-up experience for visitors
The pop-up event Winter is Not Coming by the Canary Islands was located in the renowned Westfield Mall in London, where the Throne of the Climate could be found. This consisted of a tropical-style lounging seat that was drawn at the end of the event. To participate, passers-by took a photo of themselves on it and then left their personal information to be contacted (in the case of being the winners). All in all, every attendee left knowing more about this incredible place, considered as one of the top European destinations these last recent years.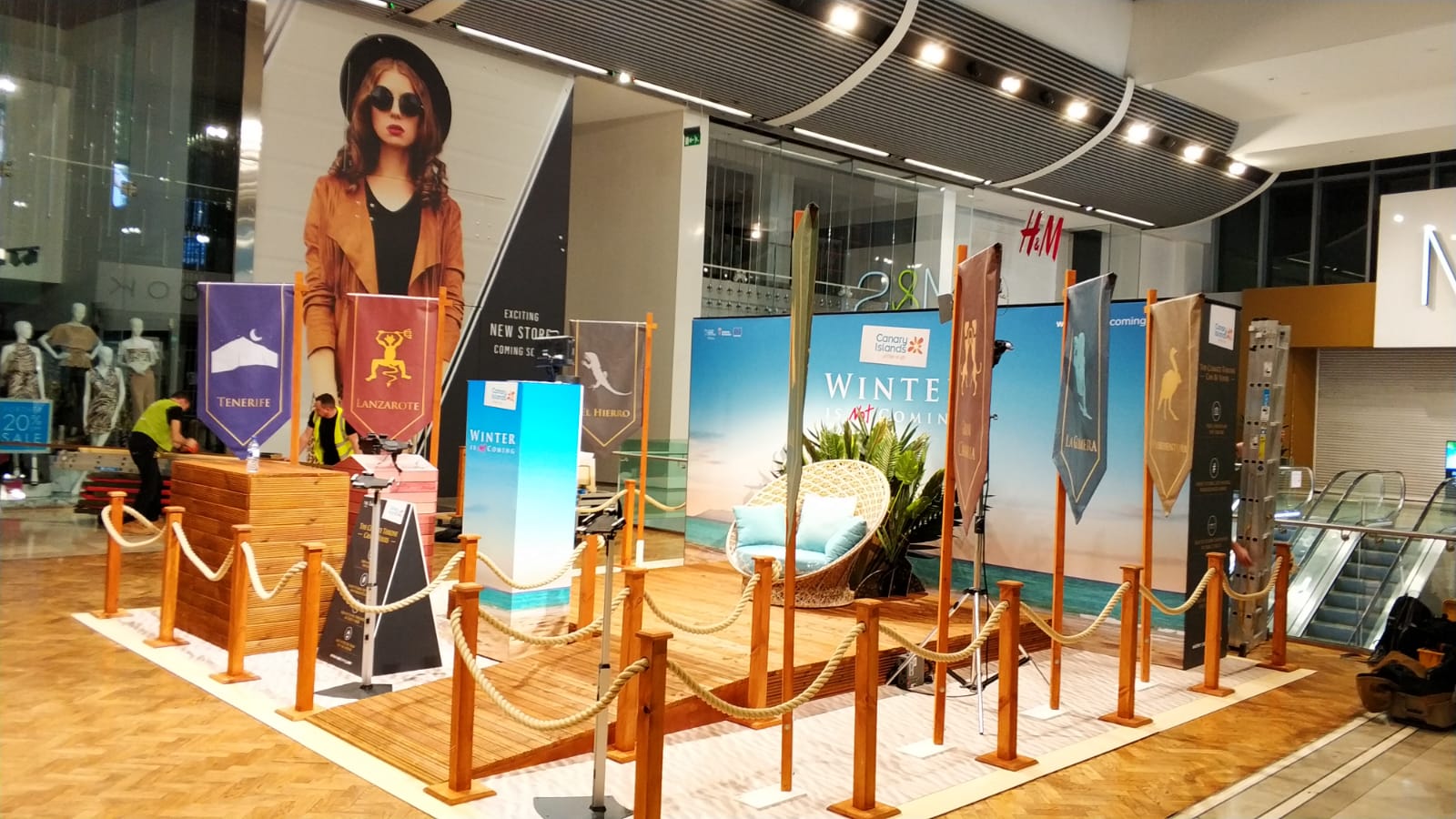 Results
Reaching new visitors and creating interest and awareness

Resulting in User Generated Content shared on IG and other Social Media

Contributing to more than 5 Million Video Views in total
This unique venue by the Canary Islands in London took place at the precise time of the year when the holidays are approaching, and everyone is beginning to plan trips to new destinations. Go—PopUp worked together with the representatives of the Canary Islands team, not only to find the perfect site for this concept, but also to provide management support on the whole production process.
Framed in the promotional action Winter is Not Coming, the Canary Islands brand has achieved more than 5 million video views alone in the first ten days of its launch. The project brought to London has complemented this strategy, making a significant impact on the visibility of the Canary Islands, where tourism is expected to increase even more this year.
Interested in working with us for your next marketing promotion event or pop-up store? Get in touch with one of our experts and we can help you from finding the perfect location to the whole fulfilment of your desired project.