How to go back to your physical store?
As Governments slowly grant more freedom of movement and allow industries, sector by sector, to open to their public, big or small companies face the same tough question: how to return to your physical store?
We, at Go–PopUp, are facing the same dilemma: how can we allow our employees to go back to the office while ensuring the safety measures imposed by the social distancing? Not everything can be as before; several aspects need to be taken into consideration, both operational and behavioural. Where probably the latter is the most difficult to control.
//New normality
We know that a new normal is settling down, but what does it really mean? We are probably analysing the post-virus scenarios, with a pre-virus frame of mind. And that is ok! The human brain is always slower than technological and societal changes, above all if they are so disruptive.
So, we want to give you some points to take into consideration when rethinking how to structure your new physical store and your next pop-up. If the changes are considerable and you are not able to implement them right away, the best solution is to test them in a pop-up while educating your employees. Get in contact with us to explore possibilities.
//Variable to take into consideration
There are several variables that need to be taken into account when analysing how to return to your physical store? Some are independent of your will, some overlap and some are a consequence of each other. All of them connect, and in order to visualise your future physical space, these variables need to fit with each other, just like playing Tetris.
It is important to carry out this analysis now, as the more in detail you will consider all these points the more flexible and adaptable you will be to the future scenarios, as we don't know how the virus will behave in the future.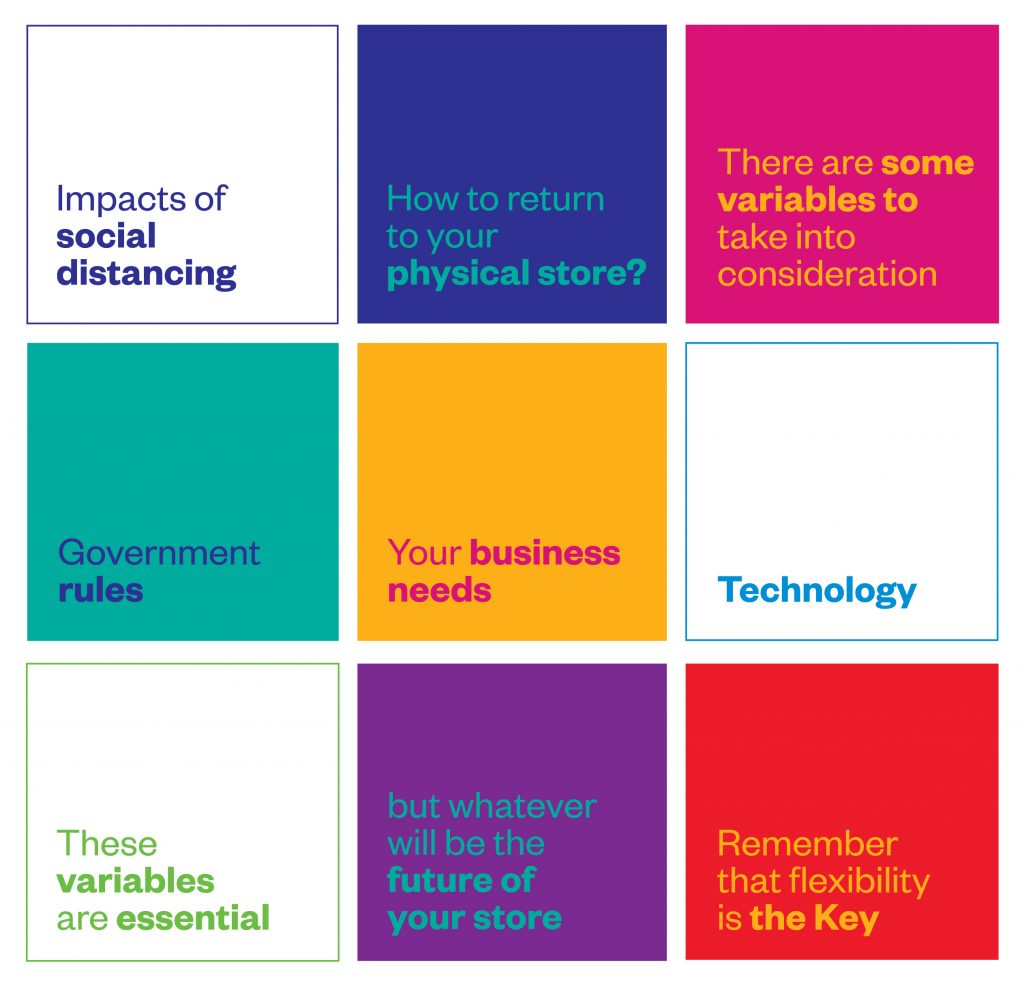 //Virus curve and Government rules
Depending on how flat the contagion curve is, people will have more or less freedom to move around the city. Shops, stores and offices as well, will be allowed to open, following rules to guarantee the health of the employees and the customers.
It will be a key element to assess how your physical store must change to follow the social distancing rules. Some changes might impact the way you address your customers or might reduce the number of people you can have in the same area at the same time. It means that this is an opportunity to think about a new way of carrying out your business, more efficient, more flexible- as we don't know yet if in the future we will have to adapt again to different realities.
//Your business needs
Of course, your business needs are always the core of what you do. But stop for one moment, and think about all those new needs that your business has now due to the COVID-19. Your strategic direction should capture any key concerns, central to overcome challenges, risks or problems and therefore succeed. This analysis might bring some insightful information about physical characteristics such as logistic. Maybe, now, you need to include in your offer home delivery – any other business need that can help you to be ready to return now but to be ready for future shifts.
//Technology
The virus is speeding up all those trends that were in the making. Think about the home office trend, a way of working companies knew they had to face soon or later. With the arrival of COVID-19 companies were forced to become flexible almost one day to the other to survive, and allow and facilitate employees to work from home.
In these last two months, many new technological advances have been designed to cover new needs. What are the new needs of your business that technology will resolve? Maybe now, you need to have an online platform. Or, you need to create a digital way of ordering your product or services. Or you might need other channels to address to your consumers, such as Online Pop-Ups.
//Retail: specific variables
Retail is one of the many sectors that have been hit hard by the time they were forced to close. If you have a retail shop what are the specific variables that might change the way you carry out your business?
These are specific points you should take into account:
Limitation of the number of people in-store: how can you guarantee a smooth walk-in while respecting the rules? Ex. Organised a timetable, offer an ad-hoc experience with a previous registration?
No fitting room: how can your consumers feel comfortable buying without trying the products? Ex. Sales representative to give measures guidance.
Disinfection/sanitation: what time of cleaning procedure does your store need? And how often? What products will you offer to your employees and consumers? Ex. Gel sanitation at the entrance of the store.
Waste management: how are you going to manage the waste produced by the in-house use of gloves and masks? These materials are not only highly polluting but also there is a specific way to dispose of them to follow sanitary measures.
Education: the last two months have been very hard under a psychological point of view for anyone. Think about the mental wellbeing of your employees. What can you do to make them feel safe at work so they can be their best with the consumers? Think about the behavioural shift. The first one, of course, is the social distancing but there is much more,  how can you facilitate them?
You should consider all these points when returning to your physical store but also if you think to launch a pop-up- as they must, as well, comply with the new reality. Launching a pop-up could be a pilot project to assess a new store format before restructuring your flagship.
---
We can help you to analyse these points and find the best solutions for your future store: get in contact with us!
DACH (Germany, Austria, and Switzerland): mac.bugaj@gopopup.com
Spain and Portugal: nuria.roig@gopopup.com 
The UK, France, and The Netherlands: mirjam.stibbe@gopopup.com 
Rest of the world: hello@gopopup.com