Online Pop-Up with Chef William Chilila
Some weeks ago, we had the pleasure to host an Online Pop-Up with Chef William Chilila.
William, originally from Zambia, has SouthAfrikan and Ghanaian roots. In 2018 he was one of the finalists of Masterchef UK: The Professionals.
I interviewed him to learn more about what he does, the online pop-up and future projects.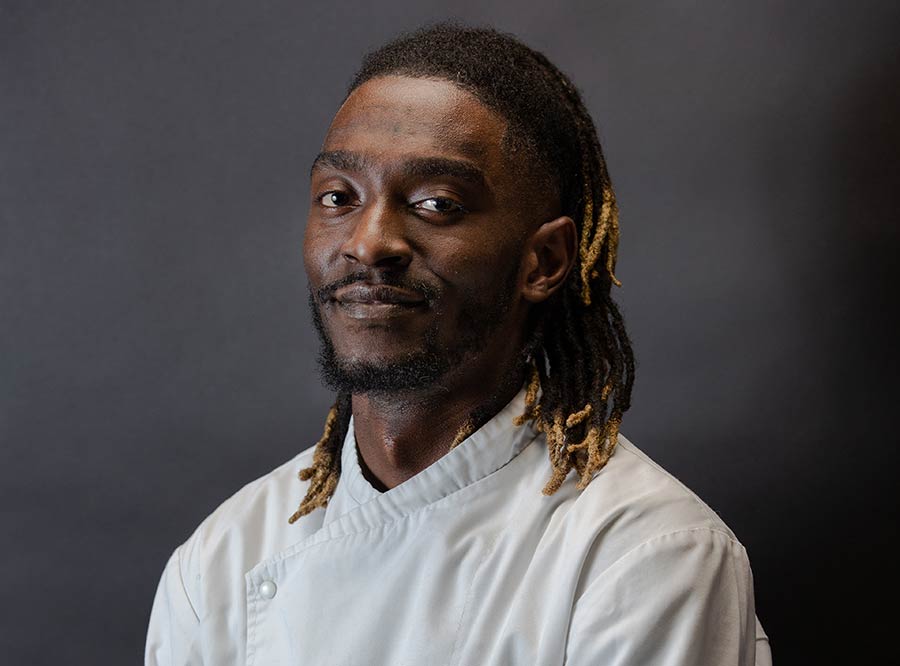 Giulia: Tell us about yourself and how did you become a chef.
William: I love fruits and spices, and back in Zambia where I grew up, I lived in a farm- surrounded by fruits, vegetables and livestock. I always helped in agriculture, growing crops and harvesting them. It was a hobby to start with; initially, I used to love fashion, architecture and basketball but something tragic happened in my life that swerved me more to cooking than to my other ambitions, and I never looked back. 
G.: How would you describe your cuisine and you as a chef?
W.: I like to define myself as "grandma"- I like to follow the footsteps of my grandma; there is no better cook in any family than your mom. But even your mom as a superior cook and is grandma. It is a cuisine that can celebrate a whole culture and not just the cooking, bringing people together whether you are having a bad or a good day. So, even if I am young and trendy, the main foundation of my cuisine is grandma cooking. It does not matter what she puts on the plate; it is always delicious.
G.: What is the most creative dish you have ever created?
W.: I can't put one singular dish there; it is not fair towards the dishes and flavours I have created. I enjoy every food. Obviously, I am known to love fruit and spices, but I can't pick one dish over another, it is hard. 
G.: Yes, I understand what you mean, the whole process of cooking is creative, right?
W.: Yes, absolutely. Everything we do, from the moment you open your eyes and you put your feet on the ground your mind is going through things, so you have already started creating. Creativity never stops, and when it stops your time on this beloved earth is over!
G.: How did you come about to launch the Online Pop-Up with us?
W.: The online pop-up came about obviously through the lockdown. Being at home wanting to cook for people got me thinking, I was also about to launch my restaurant Akoko- but all of that was not possible.
I was in Barcelona when I received the news that when I went back, possibly things were going to be shut down. And it happened. It has been hard, but I think that shouldn't put as down. The idea of having a sort of masterclass during the lockdown, when people were going back to cooking at home was appealing. Going out is a privilege, is an experience, and during the lockdown, all those privileges were taken away. So what do we do? Everyone turned to social media, trying to keep themself occupied. So, at the beginning I was reluctant- I am shy in from of the cameras. Still, then I thought that it was a possibility to educate people about the wonders and beauties of West-Africa and bridge the gap between culture. 
G.: So, how did you set up the Online Pop-Up?
W.: I thought to myself, how can I show something and make it less scary? Cooking is not just a craft. It is a skill; it takes time to develop it. So, how can you bring that to someone at home? Well, I thought: I can slowly divide the class where I talk about the ingredients that I use, not only at work but also in my kitchen at home. Some of the ingredients I use at work, you find them as well in my fridge. 
G.: How important is the relationship with your customers?
W.: As a chef, when you achieve certain levels, you are perceived as if you are not approachable, you almost become elite. But if you are yourself, your humbleness will translate in your cooking and in everything you do and onto the guests. Imagine, if something terrible happens to you, and you decide to go out for dinner, and food brings you back to your safe place. And everybody's safe place is in your mom's or parent's arms, or your grandma's, so if you can recreate that nostalgic feeling that is saying "it is ok. Everything will be ok", and I find it fantastic to be able to trigger that reassurance. Ultimately when you come to Akoko, I want you to feel like you got on a place and travelled to West Africa. You are being bombarded by all those delicious flavours that give goosebumps and make you feel surrounded by family, make you feel loved, and when you feel loved, you feel at home.
G.: So, how was your pop-up?
W.: My Online Pop-Up was just me, nothing polished- to create that kind of connection with the viewers so that they can relate to you and to what you cook. And to be able to translate this into digital is fantastic. 
G.: To close up, what are your future plans?
W.: I was supposed to launch on March 23rd, so I had to put all on hold. The pandemic was a blessing, no matter how bad that sounds- it was an excellent possibility to start anew. At Akoko we were able to address all the changes such a social distancing eating. I haven't played my card yet; I am still holding them on. 
---
To listen to the full interview with William, you can visit out IGTV on Instagram. William will be launching his restaurant in the fall, so follow him on his social media to be sure you don't miss this date but also future pop-ups. He is planning more Online Pop-Ups as well as playing with the idea of a physical one. I hope here in Barcelona, so, and I will have the chance to taste the spices of West Africa. 
The Online Pop-Up with William is just one of the last events around cooking we hosted- if you would like to launch an online pop-up or plan a physical one, get in contact with us. We can help you with the whole process!